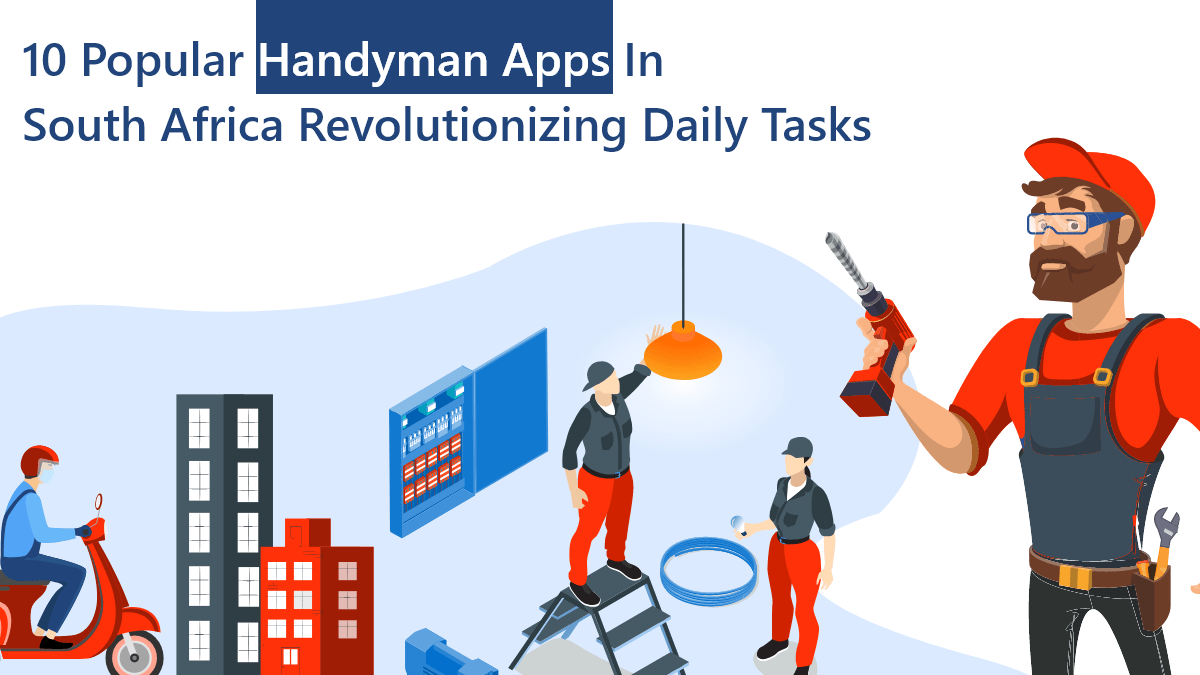 Do you plan to start a handyman service in South Africa? Yes? Then you are in the right place. You'd be surprised to learn that a handyman can earn over $100 an hour. If you start a business to make these services available to people in the area, you can earn a large percentage of profit. You also get the assurance that the handyman registered on your app can earn enough money through their services.
The article will not provide a roadmap for launching a business there. We list the top ten apps that are already popular in South Africa. Having a manual outlining the steps for creating wonders is okay. A list of solutions can inspire startups, as it helps them understand what has worked and how they can use the same solutions to achieve success.
Let's start with the article. After reading this article, I'm sure you'll be able to develop your own handyman app so that customers can get help quickly when needed.
Ten Popular Handyman Apps for South Africa
Task App
Above is an image that shows the various services available through Task App. The Task App offers taxi services, food deliveries, and handyman services for home help, such as fixing electrical devices, repairing doorknobs, etc.
It is easy to get quick assistance when needed.
Fix Forward
Fix Forward, an app for handyman services, allows South Africans to access various services, including plumbing, waterproofing, and welding.
The customer only needs to tap the service and enter their location. They will then be presented with a list of local service providers from which to choose. It is, therefore, easy to use, allowing the customer to receive quick home help as and when needed.
Handyman Direct
Handyman Direct gives you access to local carpenters, tilers, electricians, and more. It ensures that your tasks are completed without difficulty.
It is very popular in South Africa because it has the following features.
All 21 Services in One Place
Payment options
Call and chat in the app.
Get TOD
The solution should be mentioned when you are developing a handyman application. The app is very easy to use, and it commits to connecting customers with qualified handymen.
The customer simply enters the app and adds their location, chooses the service they need from various options, and then receives a list of nearby service providers. Customers can select the service provider that best matches their needs and book their services.
It is a very simple solution, which has allowed customers in South Africa to hire handymen for services such as plumbing, electrical repairs, etc.
Sweep South Connect
We are committed to connecting South African customers with plumbers, electricians, and other service providers. Sweep South Connect, a popular app for on-demand home services in South Africa, can be accessed by clicking a few buttons.
The following features are responsible for its popularity and the overall simplicity of operation.
Booking Management
Find a local handyman
Notifications in real-time of handyman services booked
Jobber
Jobber is a popular app for home services in South Africa. It allows home service businesses to operate with the utmost ease.
The handyman business, in particular, can perform different tasks easily with features like invoices, analytics, reports, etc.
Synchroteam
Field management software assists South African handymen in managing their businesses and performing operations management, customer service management, and handymen management.
Synchroteam, a handyman app with the following features, is a solution you should be aware of before starting your journey in South Africa. These include in-app chats and reports, as well as analytics.
Kick Server
In South Africa, the popular software for home services allows businesses to communicate with their customers clearly and concisely. The software helps businesses keep track of daily tasks that are performed by their solution.
The presence of features like those listed below is a good example.
* Schedule job
* Customer management
* Share an invoice
Service Titan
Service Titan provides the assistance needed to run handyman businesses in South Africa. Business operation is made easy with features like reports, analytics, and maintenance agreements.
If you live in South Africa and you plan to create a handyman application to increase visibility for your business, this is a solution you should be aware of.
Service Fusion
Service Fusion is the last app on our list of ten popular Uber apps for handymen in South Africa. It allows home service businesses to perform various business operations.
Business management becomes a breeze with features such as customer management, creating job estimates, etc.
This popular software and apps have helped the South African home service industry to become profitable.
If you're considering starting a business in the area to help customers find electricians, mechanics, and plumbers nearby and run your handyman service with ease, now is the right time.
How to Develop an On-Demand Home Service App to Launch a Handyman App in South Africa
Find features that make it easy for users to access home services.
Research your competitors and their home service solutions to identify what they are missing.
Assess the South African market's demographics and how users interact with apps to find electricians, plumbers, etc., nearby.
Handyman App Development Company: A Good Choice for Outsourcing App Development
It is a very time-consuming process to build an app from the ground up. It can also be a costly endeavor. Connecting with an offshore handyman app company is the best option. You will have access to a group of designers and developers who will collaborate to create a solution for you.
Building an app from the ground up is time-consuming and expensive. Connect with global ventures to save time and money. You will receive a solution ready to launch – the Uber app for the handyman. As it is a customizable product, you can modify it to suit your business needs. You can keep the maximum number of customers interested when you launch your product in South Africa.
Wrapping up
South Africa is a country with thriving handyman businesses. Handymen earn over $100 an hour in South Africa for tasks like electricians and mechanics. It is clear that if you create a handyman application, you can become part of a profitable home service industry that allows people to receive these services in an organized manner. Wait no more. Contact a handyman app development company and get the assistance you need to create this app to be future-ready and ready to make profits immediately.