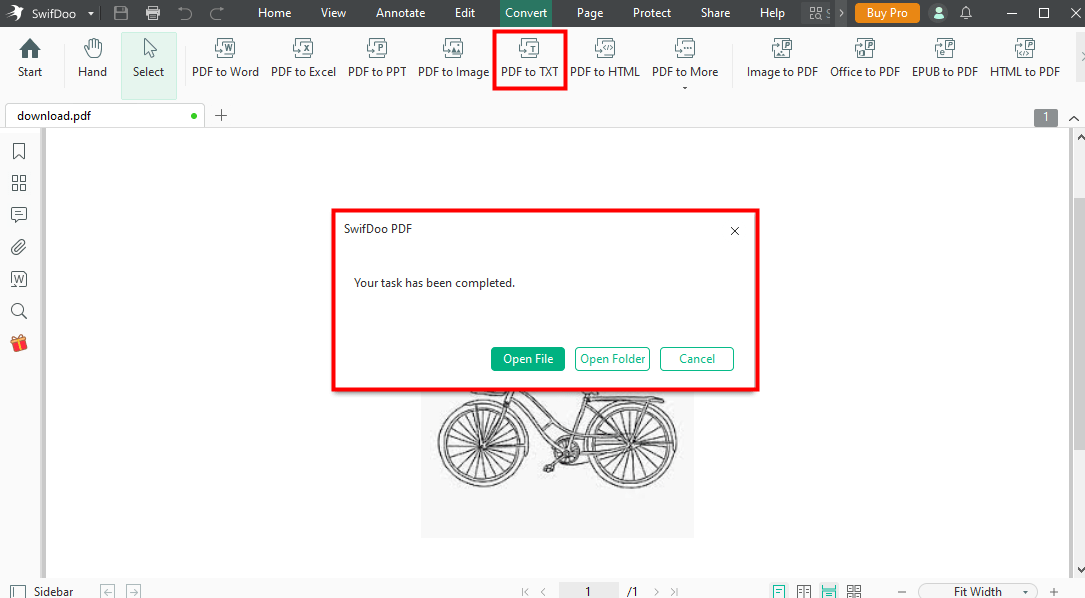 Editing a PDF is not as easy as sharing it. In daily PDF editing works, PDF files are often converted to text for easy editing. In this case, an easy-to-use PDF to text converter like SwifDoo PDF is needed. This article recommends 4 useful tools to help you convert PDF to text.
Why Convert PDF to Text
Text files are widely used in our work and life since they are easy to edit. Common text file types include TXT, Microsoft Word, Google Docs, Markdown, etc.
When required to edit a PDF without a PDF editor, people often convert PDF to plain text in TXT(.txt) format. By doing so, cut-and-paste within the file and other editing tasks can be done much more easily. Moreover, converting PDF to text will also help reduce file size.
Convert PDF to Text Offline
Getting PDF to text conversion job done will be easy if there is a handy converter. Since requirements to convert PDF to or from other file formats are common, most PDF software offers a PDF conversion feature. SwifDoo PDF is one of the feature-rich PDF software that allow users to convert PDF to text.
SwifDoo PDF
SwifDoo PDF provides a powerful tool for PDF-related file conversion. It allows users to convert PDF to Word, TXT, Excel, PPT, HTML and various other formats. The software also supports you to batch convert a number of files in one go. Let's see how to convert PDF to text with it.
Step 1: Open your PDF file with SwifDoo PDF, and tap Convert in the navigation bar;
Step 2: Hit PDF to TXT, and a small window will appear immediately, which means the conversion is finished;
Step 3: Click Open File to view the converted TXT file.
In addition to doing PDF file conversion, SwifDoo PDF also allows you to convert images. By hitting "Image Converter" under the "Convert" tap, you can convert images to JPG, PNG, BMG and ICO format. Besides, you are able to compress PDF files, merge multiple PDF files into one, and split PDFs. You can also annotate, encrypt, and translate PDF files as well as directly edit everything in the PDF with the software.
Convert PDF to Text Online
Web-based applications have been widely used for their cross-platform compatibility. There is much web-based software that allows you to make conversions from PDF to text online. With online PDF to text converters, you can convert PDF to Text for free without installing any applications or registration.
SwifDoo PDF Free Online Converter
If you want an online converter to turn pdf into editable text for free, SwifDoo PDF free online converter comes in handy. With this web-based tool, you can convert PDF to Text in just three clicks. There are no requirements for registration or logging in. Let's walk you through how to convert scanned PDF to text with it.
Step 1: Go to the SwifDoo PDF website and tap Convert PDF;
Step 2: Select the feature you want to use on the left panel like PDF to Word;
Step 3: Upload the file that you need to convert from PDF to text;
Step 4: Save the file by hitting the Download button.
Tips: This free online PDF converter places a limitation on the converting frequency. You can convert two files per 24 hours. It only supports single file conversion at the moment.
PDF2go
PDF2go is an excellent online PDF software with extensive features and a straightforward interface. With the help of this PDF converter, you can convert a PDF file to Text, Word, PowerPoint and image files. Let me show you how to convert PDF to text with it.
Step 1: Go to the PDF2go website and tap Convert from PDF;
Step 2: Upload the PDF needed to be converted.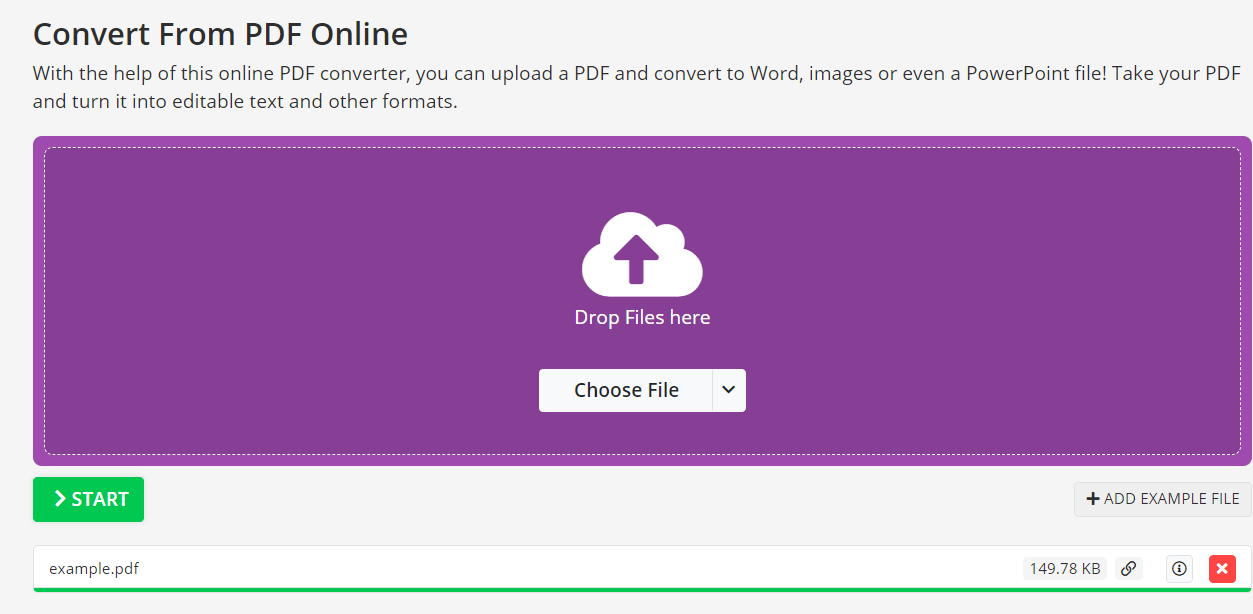 Step 3: Select the exported file format from the "Setting" section and hit START to convert PDF to Text;
Step 4: Download your converted file at the result page.

Tips: You can convert two files at a time for free. Processing more than 2 files in a single task is only available for Premium users;
PDFConverter
PDFConverter is another easy-to-use tool to convert PDF to text. Currently, it supports converting PDF files to Text, JPG, PNG, Word, Excel, PowerPoint, HTML, and DWG format. You can also convert JPG, PNG, Tiff, Text, ODT and Office files to PDF with this online PDF converter. Besides, the online software enables you to convert Image to Text, and turn JPG into Word. Let's see how it works to convert PDF to searchable text.
Step 1: Head over to the converter site and hit PDF to Text;
Step 2: Upload the PDF needed to be converted to text;
Step 3: Wait for a while and download the file when the converting process is finished.

By using PDF Converter, you can convert PDF to text or its other supported formats and vice versa without limitations. However, you are not able to process more than one file at a time, which can be annoying if you need to convert a large number of PDFs to text.
Conclusion
With those four PDF converters mentioned above, PDF to text conversion will be a breeze. The offline software is more powerful while the online ones are more convenient since you can access them on any smart device. However, online converters often have limitations on the number of conversion tasks and files to convert at a single time. If you need to regularly convert PDF to text or do something else to manipulate PDF files, SwifDoo PDF will be your right-hand assistant.